Monday, March 10, 2014
I think I mentioned it awhile back but I started looking into doula training last year.
(What's a doula, you say? A doula is a trained labor support person. See the image above! Or you can check out my birth services website for more information on doulas.)
I've been a self-professed "birth junkie" for a long time and this seemed like something that would be right up my alley. I took a very informative "Breastfeeding for Birth Workers" course through a local birth services organization in January. It was a great place - they had so much information and resources available for moms and moms-to-be and so much stuff going on!
I checked into the doula training through them and saw that they had a birth doula training workshop coming up in spring, for a long weekend. It would be a Friday through Sunday, 8 AM - 6 PM each day. Hmmmm. I have a nursling that doesn't like bottles or cups very much...like at all. So that meant I'd have to find someone who could handle watching him and attempting to try and give him bottles/cups during the day or bringing him to me as needed to nurse. (Which could be a potential distraction to myself and my fellow classmates.) My husband would be my first choice but he works a lot and can't get the time off work. My mother or maybe a close friend could probably do it but they'd probably have to take time off of work too and I'd hate for them and him to have to spend a whole day feeling crabby/cranky. Plus, I've got two other children that would also need to be watched, or I'd have to find an additional sitter for them. Blargh. Just as I was getting excited about everything, it seemed it wasn't going to be a possibility for me.
So I kept investigating and asking around about different doula training organizations. While on the almightly Google, I found New Beginnings Doula Training. I read up on their training program and inquired about it on a Facebook doula support group. It sounded perfect for the stage of life I'm in right now - self-paced, online educational training with assignments, reading, and case studies. You have to complete a birth packet and comprehensive skills checklist before certification. Plus, all my messages and inquires were responded to promptly. So I signed up last week and I've already completed my first assignment! A few people voiced their concerns about me not getting enough hands-on training (i.e. in person/real life) but I am planning on shadowing some local doulas (and perhaps midwives) and gaining experience those ways as well as earning it during my certifying births. I think it will work out great. :)
I'm curious, readers - have any of you utilized a doula, or labor support partner? What were your experiences like?
Wednesday, March 5, 2014
I'm really excited to be the guest co-host on the Mom Loving Hop this week! I've been linking up with them for a few weeks now and I've met a lot of new people and discovered some pretty neat blogs. Please come join up with us!
Our guest co-host this week is Shay from
Wonderfully Chaotic
Shay's blog title is the perfect way to sum up not just her home but all homes filled with children, just love it. She's a mama to three and a loving step mom to one - count it, that's four children! Shay's blog is great for moms because she reviews relevant for families. If you're a homeschooling mama (or just a mom wanting to find ways to give your children extra support at home) you'll definitely want to check her out!
Our featured mama this week is Teri from A Beautiful Little Life
Teri lives in Minnesota and is mom to two boys ages 16 and 20. She was motivated to write her blog by a quote from Holly Becker that is about a blog being a motivator to do things you'll want to share rather than a chore. Her blog helps her tackle all those 'to-do' list items. Teri's blog is filled with a large assortment of topics, something for everyone!
Here we go! Don't forget to...
**grab our button and display it proud for other mama's to get in on this action!
**read the rules, link up and socialize!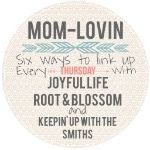 Please, if you are new to the hop or have been here but haven't left a comment, please let us know on our own respected blogs that you are a new follower (be sure to say HOW you are following) so we can follow you back!
Also,
If you are interested in co-hosting FOR FREE shoot Hannah an email at hannahsjoyfullife (at) gmail.com to get on the list, growing your followers couldn't be easier!

Through the Homeschool Crew, I recently got to review a Motivated Moms Ebook. Motivated Moms is a chore planning system designed to help busy moms stay on top of their chores and take care of their household. It started out originally as a planner and has since grown into different versions of a downloadable, printable e-book and app usable on iPad, iPod Touch, or iPhone.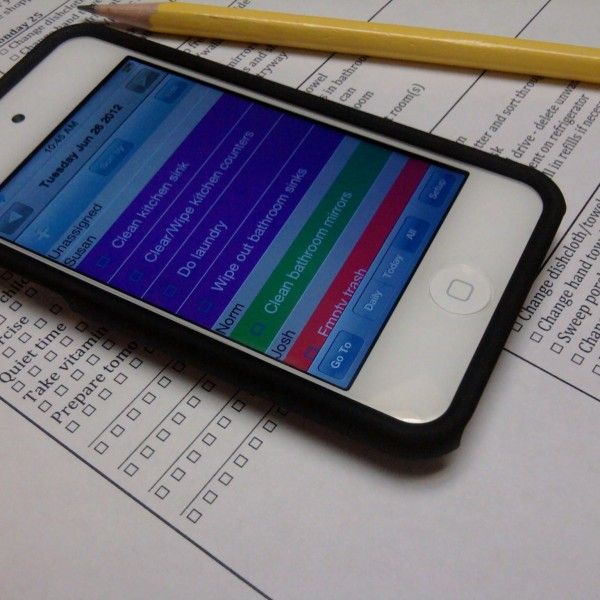 The e-book format that I got to review is available in many different variations with either half or full sized pages with the options of a Bible reading list and chore list that you can check off as you go. You can also either choose a page per day or a page per week and color or black and white. Since there are a variety of different options, the pages available to download and preview on their website are very helpful. I printed out several versions to look over (and even consulted with my husband) before I decided on one.
I chose the
2014 Motivated Moms Chore Planner with Scheduled Bible Reading in Black and White
. I chose Black & White because we don't have a color printer at the moment. Here are some more things I really liked about this version, and the e-book in general:
I can either print the whole thing off at once or I can just print pages off as needed, depending on what my printer will allow. :)
It fits right onto my clipboard, can be stuck to the refrigerator, or can be put into my household/homeschool planner book.
It includes daily Bible readings. Very handy. I have devotionals and stuff to use but this motivates me to stay in the word each day by reading a specific passage of scripture and check it off.
My children and I both enjoy checking off the "daily chores" - these are all things we do normally each day, or at least try to, like making our beds, doing laundry, reading to the kids, etc. The kids have actually been keeping me in line and reminding of the daily tasks after they get up in the morning.
This will probably sound silly but some of the chore reminders are things that I get behind on easily and then feel horrible about - like clipping the kids nails or taking my vitamins. (Please tell me I'm not the only mom of multiple children who has been somewhere and noticed that one child needs a nail trimming!) It's nice to have those reminders in print.
I enjoy that the assigned tasks for the week aren't overwhelming (there's usually 4 - 5 items for Monday - Friday) and they are generally specific to one room - kitchen, bathroom, master bedroom, etc. I also like that the weekends are lighter on tasks. My husband usually only has Saturday off, so we are able to enjoy spending time with him then rather than cleaning all day.
I am not a naturally organized person. This system helps me to start getting on top of the chores that have gotten out of hand.
The number one hing I like the most about the Motivated Moms e-book planner is this:
It's forgiving.
As I said before, I am not naturally organized. I've tried other organization systems and planners and I was constantly feeling like if I got behind one or two days, I had to scrap it and start over.
It is not the end of the world if you don't check everything off this list. It will be there tomorrow. It is a tool to help you but it's also not going to beat you up if you don't get everything done. This was really helpful for me, especially as time went on. When I started out, I was doing great checking things off left, right, and center. Then I hit a snag - baby was up late, I got very little sleep, day started off wrong - and our list didn't get finished. Instead of getting bogged down, I just vowed to finish up those other chores the next day and as the week went on. It worked out great!
If you're a busy momma, I think the Motivated Moms system could be just the thing you're looking for. And with the many different options for planners (or the app!) there is sure to be one that suits you. The Motivated Moms e-books are $8 and the app is also available in a lite and full version, 2 month lite trial for $1.99 or 99 cents a month or $7.99 a year full version. All are available through the Motivated Moms website -
http://www.MotivatedMoms.com
. You can also find them on Facebook -
https://www.facebook.com/motivated.moms
- & Twitter -
https://twitter.com/momoplanner