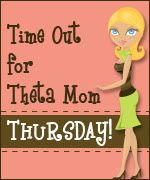 I'm joining Theta Mom Thursday this month! Head over to
Theta Mom's blog
to leave your link if you'd like to participate too. It's hosted by Theta Mom herself and is a time once a month where moms blog about an hour that they found during the month to spend on themselves without the kids.
My alone time has not happened yet but
will
be happening this Saturday! I am going out with a very good friend to celebrate her birthday! We're going to a nice sit-down restaurant and I will actually be able to eat in peace without having to cut up anyone's food, clean up a spill or take someone to the potty. And it's even better because I already have a gift card for the restaurant so I won't have to spend any money. Wooooo!