I have received two different awards in the past two weeks. It just brightens my day so much to see them (I've added them to my sidebar under Awards) and I hope I can make somebody else's day by passing it on to them! Thank you ladies! :)
First off, I received the
Sunshine Award
from
'Manda Blogs About
.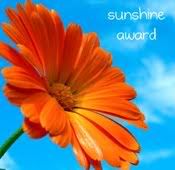 The rules for accepting this award are:
- Put the logo on your blog or within your post,
- Pass the award onto 12 bloggers and link the nominees within your post.
- Let the nominees know they have received this award by commenting on their blog.
- Link to the person from whom you received this award.
The people I feel deserve the
Sunshine Award
I have read for a little while or a long while - and they always have a good deal, an interesting article or something else useful to share with others.
1.
Liv's WAHM Blog
2.
Mommy's Money Cents
3.
Come, Have a Peace
4.
The Organizing Mama - Real Life Solutions for Real Busy Women
5.
Housewife Hacks
6.
Work at Home Mom Revolution
7.
Natural Moms Talk Radio
8.
Jennifer James
9.
The Suburban Jungle
10.
Stockpiling Moms
11.
The Homeschool Desk
12.
Penny Sophisticate
I received the
Happy 101 Award
from
The Practical Mom Guide
.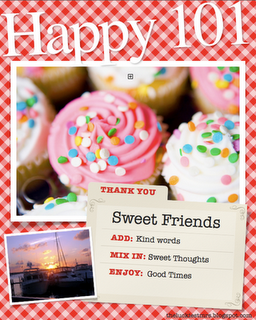 To accept the "Happy 101 Award" I need to:
1. Acknowledge the person who gave it to me.
2. List ten items that make me happy.
3. Award it to ten other bloggers.
Alright, ten things that make me happy are as follows:
1. My kiddos
2. My handsome hubby
3. The rest of my family (Most of them anyway, lol)
4. Writing
5. Music
6. Sci-fi stuff
7. Autumn (Hint, hint winter...get lost!)
8. Books
9. The piano
10. Food!
And the ten bloggers listed below are some I've followed for awhile and a few others that I've just discovered - but either way they bring a bit of happiness into my weekly blog reading! :)
1.
The Liliac Grove
2.
Witkowski Family Happenings
3.
It's a Beautiful Life
4.
Theta Mom
5.
Art's Chili Pepper
6.
Going Peanuts: A Young Mom's Tale
7.
Under the Golden Apple Tree
8.
Three Pumpkins Little
9.
ACU's, Stiletto Shoes and Pretty Pink Tutus
10.
Our Three Peas