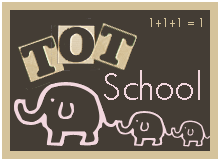 This past week I discovered my newest favorite blog,
1+1+1=1
, and I ended up getting lost in it for several hours! :) While browsing, I learned more about
Tot School
(which I'd seen before in passing on some of my friend's blogs) and decided that it would be a great thing to do with Ellie since she wants so much to learn and be in on whatever Zeke is doing in school.
So what is Tot School, you ask?
"Tot School is nothing more than intentionally providing your tot with age appropriate activities that are fun and engaging. By choosing specific toys and activities, we expose our tots to a variety of early learning skills. Mastery is not the goal, FUN is!"
(If you'd like to learn more about Tot School, just check out
this link
.) So without further ado, here's what Miss Ell-Bell did this past week in Tot School:
I have a box with all different kinds of flashcards that Ellie likes to sort through. She's talking a mile a minute now so she can name practically everything on the animal and ABC cards - and even if she's not sure exactly what it is, she knows what it looks like! For examples, on one card there's a picture of a blue ball of yarn and she said "Dats a boo ball!"
Temporarily distracted by a toy of Zeke's...
We set up the food kitchen in the living room, pretended to have a restaurant and talked about all different kinds of food combinations - some weird, some normal. I also had about seventy cups of "tea" on this particular day! :)
Other interesting things she did (some that I don't have pictures of) are:
checked out a new puzzle
, built towers with Zeke's blocks and used measuring cups and spoons to scoop cereal into bowls. I'm looking forward to trying out some new things I've read about online this week!