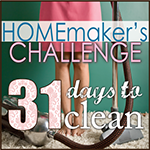 Although this post is a little belated, I've really been enjoying the
"31 Days to Clean" Homemaker's Challenge
which is being hosted over at Joyful Mothering
.
I have the book on my e-reader so I can read it at when I get a free moment which is very handy.
I think the Six Things List on
Day Six
was probably my favorite from this week because it helped me simplify what things were most important to get done. The idea is to make a list of six specific things at night before you go to bed that you want to accomplish the next day and then do them in order. If you don't get something done, put it on the top of the list the next day. This was a good tip for me because I clean very haphazardly, going from one room to the next and trying to accomplish a million tasks in one day.
Other topics this week were: recognizing and dealing with "The Curse," laziness and feeling overwhelmed. I found "The Curse" days to be interesting because it talked about how everything is in a constant state of decay - there's always going to be more dishes to do, clothes to wash, things to pick up, etc. Houses will continue to get messy. And I quote from the book -
"Work is not the Curse, unproductive work is."
Aha! A lightbulb moment! The Mary Challenges this week really made me think.
I'm gonna lay it out there, though and just let you know that this week I did a really crappy job on the Martha (cleaning) tasks. We've just been SO busy. I really did try and examine this week how to better manage my time, though - hopefully I can improve that in the week to come. Today (Sunday) I tried to make up for my lack of cleaning this week and ended up scrubbing the kitchen cabinets, unloading & reloading the dishwasher, scrubbing the inside of the dishwasher (which was surprisingly quite dirty for being a dish
washer
!), folded what laundry was left to be folded, doing a general pick-up of the kitchen, tentatively planned dinner for this week, started my grocery list and made my "Six List" for tomorrow. Whew.