I recently had the opportunity to review the book
Before Five in a Row. It is a book full of ideas geared towards children around the ages of two to four years old. I have a six year old and a two year old and they both enjoyed different parts of it. This book is kind of like a guidebook to early learning. It gives you ideas and activities to help you not only bond with your child, but also to get them help them develop a love of learning.
And although it's age range is just right for my littlest one, I was able to easily work in things to keep my six year old interested as well.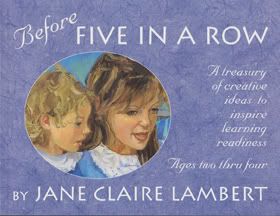 The first part of the book has twenty-three mini-units centered around different picture books available in many stores or at most local libraries. (A few of the books used in the units are out of print so they were a bit more difficult to find.) The activities and ideas are all categorized by what subject they cover - Bible, Science: Animals, Memory, Art, Relationships: Family, and so on. The activities my kids enjoyed the most were from the units on Goodnight Moon, Blueberries for Sal, The ABC Bunny and Corduroy.
I found the second part of the book ("Parents Treasury of Creative Ideas for Learning Readiness") to be extremely helpful. It had lots of neat ideas, suggestions of things to with your child and for your child to do on their own. These are great not only to use with my own kids but also with the other groups I'm involved with that have young children in them. Some of the ideas included:
~ Compartmental Organization: Let your child sort small items into muffin pans or egg cartons (I actually
did this with Ellie
just a week or two ago after reading about it in here!)
~ Grocery Store Scavenger Hunt: Give your child a list with pictures of the things you need from the store so they can help.
~ Homemade Instruments: Make homemade musical instruments out of things you have around the house.
There were many more ideas but obviously I don't want to list them all! I think if you're a Mom of little ones you will like this book. It gave me lots of neat ideas. It also reminded me that my kiddos are only little for a sort time and that learning happens in a lot of different ways!

Before Five in a Row costs $35 and can be purchased from Rainbow Resource.You can read more about the book on the Before Five in a Row website.

Disclosure: I received this book free for providing my honest opinion. To see what other TOS members thought of Before Five in a Row, please go HERE.