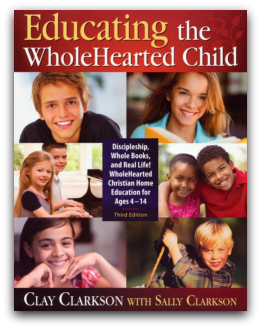 As part of the
TOS Crew
, I got a chance to review the book Educating The WholeHearted Child. At first glance, I was a bit intimidated because it is a rather large book (8.5 x 11 inches and over 350 pages) but it is a very enjoyable read. I was also a bit confused about what a "wholehearted child" was exactly but that was quickly cleared up in the preface - "...we have very simple goals for our children. We want them to be wholeheartedly devoted to our God and to have willing minds that seek and serve him. That is what we mean by the 'WholeHearted Child.'".
This book was first written in 1994 and but has been revised and expanded for this third edition. It's an excellent source book full of ideas, plans and guides to anything and everything related to homeschooling - and it's not just straight homeschooling guidance either. It also discusses homemaking, parenting, advice for homeschool dads, biblical instruction, curriculum choices and motherhood.
The section of the book on children's learning styles was very eye-opening for me. I took the assessment to see what style Zeke fell under. He is a "Helper" child. Some traits listed in the book he shows are: needs clear instruction for tasks, enjoys reading and history but not impersonal subjects, wants harmony & avoids conflict, is frustrated by abstract ideas and picks up on others attitudes and emotions. Zeke is often very empathetic and picks up on my feelings even if I don't express them - like if I'm frustrated or upset. He definitely needs CLEAR instruction for tasks...or they won't get done! He doesn't do well with abstract ideas and likes to have a personal spin put on things to understand it.
I especially related with the part of Chapter 7 (The WholeHearted Learning Home) which discussed curriculum. It said: "Part of the liberation of learning in your home will be throwing off the tyranny of textbooks and breaking the grip of curriculum." I struggled with that a lot when I first started homeschooling. I thought we needed to follow the lesson plan exactly and that we could do everything in textbook and workbook fashion. I have a very hands-on kiddo who balked at that and it threw me for a loop. The book goes on to say, "You are free to choose to use a curriculum or not. You do not need to be curriculum-dependent!" Amen! It also lists most of the types of curriculum or styles of teaching, a brief overview of each and where to find them.
I would recommend this book to
any
homeschooling parent - veteran or newbie, mom or dad. It has information everyone can use! You can purchase this book from
Apologia Education Ministries
for $22. You can also see more about the book including a table of contents and a sample chapter by going
here
.