Ooka Island Adventure is a downloadable early reading program for kids around ages three to seven years old. It teaches them how to read according to the Ooka Method which is as follows:
"The Ooka Method combines phonological development and language rich text with comprehension activities so children have the opportunity to achieve effortless reading."
I was very excited to be chosen for this review because
as I've written recently
, Zeke has been struggling with reading.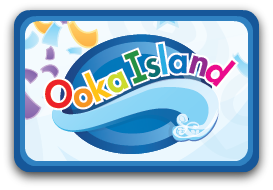 This game works on the Mac or PC and you must have a high speed internet connection
and
3 GB of available space on your computer. You download the game itself, and then you can purchase a subscription to use it online. It's a *huge* download which was a bit of a challenge for me because our internet has download limits we're not to exceed.
We started out the game by designing Zeke's avatar, which he loved doing. (The super hero outfit was his favorite!) He started out his adventure playing games that reinforced the letters and their sounds which he has pretty much mastered already. His favorite was Cake Factory, where he got to decorate the cakes with letters. While doing those games he earned Ooka Mist, the currency for the island. After twenty minutes of guided play, Zeke then unlocked a new book in the Popcorn Library. After reading the book twice, he did the vocabulary and comprehension activities. I still don't feel like he was really "getting" it, though. As I watched him, I noticed that he just started guessing and randomly clicking things when he didn't know the answer instead of trying to figure it out. I think with some more time and some instruction on my part, he'll understand it more. After he finished the vocabulary/comprehension questions, he earned eight minutes of free time to explore the island. He spent some of his Ooka Mist at the Mist Mart on things for his avatar and visited the Pencil Playground. After that, the player goes back to the guided play and continues on until Level 24, when the game is then completed. The price structure for Ooka Island is as follows:
For more information on Ooka Island, you can visit their
website
or
blog
. You can also find them on
Twitter
or
Facebook
. If you use the promo code below, you can get 30% off your monthly subscription and there's also a 14 day free trial.

Go HERE to see what other TOS crew members thought of Ooka Island!