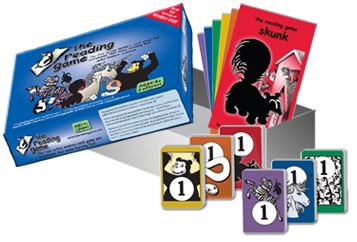 Through The Homeschool Crew we got a chance to review The Reading Game, a memory card game that helps kids learn how to read. This review was a great one for us because as I've mentioned over the last few months, Zeke (my six year old) is struggling to learn to read.
The Reading Game comes with six storybooks - Skunk, Snake, Bear, Penguins, Unicorn, and Zebra - and each book comes with a different colored word matching card game, similar to Memory where the kids are supposed to find the words that match. The memory games are played in six stages for each book, with the kiddos learning five different words in each stage. (For example, the words for the first group of cards are: not, cat, is, can, and me.) By the end of the first book the student is able to read thirty words. There is an assessment on
The Reading Game website
you can do to see what level your child is at but we just jumped right in and started playing.
This game is a nice addition to our learning to read curriculum. Zeke likes finding things that match and he really seems to be picking up on the different words. One way I've incorporated this into our schooling is that whatever group of five words we're currently playing with in the game, those are Zeke's "sight words" for that week. We will play the game, then go through the book and find the different words in there, copy the words onto paper and then onto sticky notes which we stick them on a bulletin board so we can see them throughout the week. I remind him as the week goes on to keep a lookout for those words in other books, on signs, on TV, around town, etc. (If he's feeling confident with those, we'll sometimes add in another five but usually it works better for us to just take those five at a time to make sure he's *really* got them.)
The Reading Game
was created by "Wordly Wise" author, Kenneth Hodkinson. It retails for $24.95 and comes with six illustrated story books, six decks of matching playing cards, and a Teacher/Parent's Guide. More information about it can be found at
The Reading Game website
. To see what other crew members thought of this product, go
here
!
Disclosure: As part of The Old Schoolhouse Homeschool Crew, we received The Reading Game for free in exchange for our honest opinion.