I have been sooooooo excited to do this review that I started writing it almost two weeks before the due date! (Which is a big deal since I'm a *wee* bit of a procrastinator, hehe.) We were blessed to get to review the I See Sam Little Books from
Academic Success for All Learners
. Here's some more information about the curriculum from their website:
The Reading for All Learners "Little Books" program is a sequence of 141 color coded books. There are 8 sets of books from Kindergarten to 3.6 reading level. The Little Books are used successfully around the globe in a variety of settings. Schools use them in small group instruction and for individual needs. The instruction can come from teachers, parents, paraprofessionals, parent helpers, older peers, anyone! They are inexpensive, easy to use and the research is solid. They work!! The sets are favorite materials for teachers because of their easy-to-use format, embedded cues, and assessment tests located throughout each set. The students enjoy the fun characters, group interaction, reward certificates, and coloring sheets. Each set of Little Books contains 27 books and costs $30.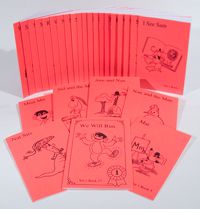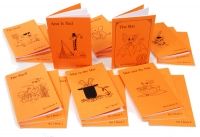 I cannot say enough good things about the Little Books - and if that's not enough, you can ask my hubby and family. They and I both are blown away by how Zeke's reading skills have improved over the last month. I've written on my blog
several
times
about Zeke's struggles with reading - we tried many different things but it just wasn't clicking for him. He started using these books and it's like a switch was flipped. I wanted to run around yelling, "He's got it! He's got it!" I restrained myself, though. :)
We started out with Set 1 and Set 2 of the Little Books and Zeke is flying through them like there's no tomorrow. They're simple enough that a busy boy can keep focused and be interested in them but not so simple that they're boring. Zeke loves the characters and stories - even my three year old is picking up on the phrases and sentences from hearing us read aloud! Check out
this video
to see Zeke reading the "I See Sam" book. (If you can hear him over Ellie saying, "Take my picture, Mom!" LOL!) When we finish these sets, we're planning on continuing with all the sets until we finish. I am so very happy we've found something that will work for my busy little guy!
Academic Success for All Learners has many
free resources on their webpage
including a tool to
create your own instructor guide & lesson planner
, tailored just for your child. I did this and it was spot on for where Zeke was currently at in his reading levels. Also on their webpage you can see the
Scope and Sequence
(PDF) that shows the skills covered at each level. I would highly recommend Little Books - they're the best reading program we've found!
Disclosure:
I was given two sets of Little Books as part of the
TOS Homeschool Crew
where I review homeschool products in exchange for my honest review. If you'd like to see what other crew members thought of the Little Books, please go
HERE
!