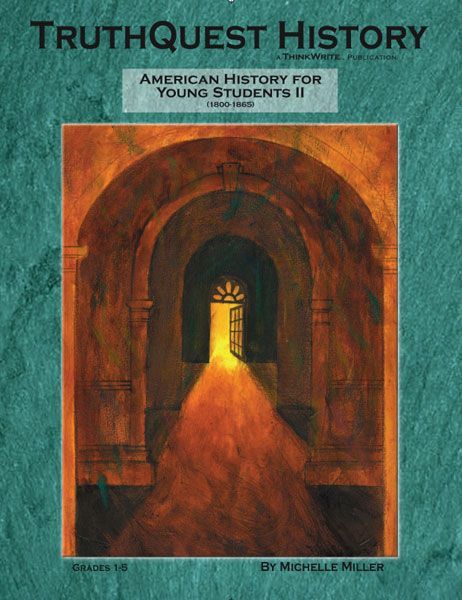 My husband and son love history - it's one of their favorite subjects and an area that he (my hubby) can help out with in our homeschool. And while Zeke enjoys the history curriculum I've gotten for him so far over the past couple years, he prefers to read (or be read to) history books about different subjects. So this book I was chosen to review for the TOS Crew goes right along with his love of history books. It's called
TruthQuest History
and we were given our choice of books from different time periods. Our current history book ends around 1800-ish so we went ahead and chose
American History for Young Students II (1800-1865)
.
TruthQuest History is a literature based history study - it's not a curriculum in the sense of a textbook that gives you facts to teach, instead it introduces topics of study with a short commentary and a vast book list for each topic. And when I say vast I mean it! Abraham Lincoln has a six page book list alone! Grade levels are listed next to each book as well and writing prompts are scattered throughout. This is a book-centric curriculum so you
will
need to utilize your local library. And while our library didn't have every book listed, we could also use our library's network borrowing system to borrow from other libraries throughout the state - it just takes a little time, so if you were going to do that you would need to plan ahead. Another good place to look is
Amazon
. (If you're struggling to find books, TruthQuest also offers some suggestions
here
.)
I think this is a great addition to a regular history curriculum, especially if your children like reading real or living history books. I find them to be more interesting than textbooks, personally and more memorable. Zeke is the same way - he really likes the presidents so that's something we've been studying for the past few months. He can already recall various facts and anecdotes from different presidents lives from the living books we've read. If I were to sit him down and make him memorize facts & dates from a dry textbook, I don't think he'd be as interested.
This is also a good addition if you are a Christian homeschooler as it is a God focused look at history and shows his handiwork throughout. Another plus is that you could buy one and use it for all your children - the book I have is for grades 1 - 5 but listed books for grades K - 12. You can purchase a spiral bound book for $24.95 or a PDF eBook for $19.95. Along with American History, TruthQuest also offers several books on World History, along with notebooking pages, timelines, maps and more. You can also find
samples of all their material
and a "
how to choose where to begin
" page on
their website
.
To see what other crew members thought of this, please go
HERE
!
Disclosure: As a member of the TOS Crew, I received this product in exchange for my honest review. All opinions are my own.