All this week I will be participating in The Old Schoolhouse Crew's 5 Days of... Blog Hop! 60+ crew members will be writing on all different types of topics - home management, discipline, cooking, different types of homeschooling, gardening, crafts, preschool, hints on homeschooling subjects like history and science - and so much more! There's something for everyone to enjoy. Be sure to check out the *BIG* post
HERE
on the Crew Blog that links you to all the individual blogs! (You can also click the button at the top of this post to get there!)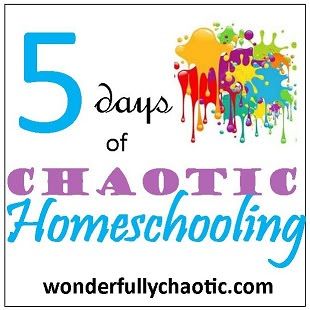 5 Days of Chaotic Homeschooling: Day 1 - What Is It?!
As the name of my blog suggests, things are often chaotic here in our household! When this blog hop was announced I tried to think of something I had authority on and could write about with ease - this was the first thing that came to my mind! I'm not sure if that's a good thing or not, though...oh well! :)
Chaotic Homeschooling is schooling - and surviving! - through life's unexpected ups & downs and chaotic situations. Homeschooling just by it's self can be a challenge but when you add to it the curve balls life sometimes throws at us, it can be downright crazy! What types of situations do I mean exactly? Well, each family has it's own set of life challenges but here are some that can throw your homeschool (and life!) into turmoil:
Job loss, unemployment or a new job
Death or an extended illness
Financial difficulties
Pregnancy, a new baby and/or the adoption process
Other new family members or pets
Moving
Erratic schedules (because of work, activities or otherwise)
Any other types of unexpected situations or changes
We have experienced several of these situations ourselves and have learned a lot from them. Over the next few days, I will be sharing my insights on them and the wisdom I've gleaned from other homeschool moms that have been through some really tough times. I'll also be sharing what our Heavenly Father has to say about them and how we can survive and even thrive in tough times!