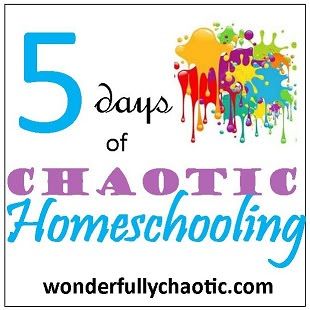 5 Days of Chaotic Homeschooling: Day 3 - Personal Stories of Chaotic Homeschooling
On Monday, I gave you a
brief overview
of Chaotic Homeschooling and on Tuesday, I gave you some
simple solutions
. Today, I'm going to share some personal stories from my own life and from homeschool moms I've met that have experienced some pretty stressful situations.
In my own life, we've been through unemployment twice. (If you're interested, you can read more about that
HERE
.) My husband lost his job along with almost 30 other people at a job he'd been at for eight years, he was then unemployed for a year, got a new job and worked there almost a year, then was laid off as part of a reorganization/the economy, was unemployed again for several months, and then got a new job! So through that all we've experienced many different types of schedules and have really had to adapt at times. Whenever he's started a new job, I've tried to give us all a little slack until we start getting into our new groove. I go ahead and figure into my plan some "off" days where things may not go as planned.
A friend of mine is a whiz at managing her homeschool through pregnancy and new babies. She has multiple children, a super busy household, and is still very organized. She has a family binder & homeschool planner that she uses to keep up with everything - and let me tell you, she makes it look effortless! I know that she does have things that get her down but planning ahead really seems to help her keep it all together. When preparing for pregnancy, she also prepares things for her other children - busy bags, lesson plans, unit studies - that she'll have at the ready for those days when morning sickness overwhelms her. Once her baby is born, she figures in sometime for everyone to get adjusted and then starts back slowly. Her older children are a big help but she also baby wears and practices breastfeeding so she'll be a little bit more available to her other children - to listen to them read, to watch them as they work, etc.
A family I know have for several years now had to deal with a child's crippling illness - the child is very ill and wheelchair bound. They've spent months at hospitals and are constantly running to doctor appointments and specialist visits. In addition to that, they're also homeschooling and they have several other children that are involved in their own activities and sports. They've also had to completely redo most of their home and have gained considerable debt. When the child was first diagnosed, it really turned their life upside down. However, they continually amaze me with their organization and faith. One thing that is a giant help to them is that they have a wonderful network of family, friends, and church members that support them, and assist them when needed - chauffeuring kids around, cooking meals, running errands, etc. Another thing that helps them is that they use online homeschooling programs that grade the children's work for them and emails them progress reports.
Do you have any personal Chaotic Homeschooling stories? How did (or do) you manage? Feel free to share your stories and thoughts in the comments! :)
5 Days of Chaotic Homeschooling is part of 5 Days of Blogging with The Homeschool Crew!