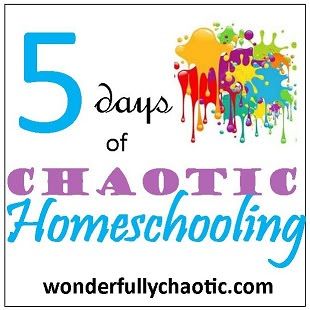 So far we've discussed
what Chaotic Homeschooling is
,
different ways you can embrace it
, and
heard some personal stories
about people who've dealt with it. On this fourth day of Chaotic Homeschooling, we're discussing those things that help you keep sane when you're at the end of your rope. Here's some of my favorite tips and tricks:
Pinterest - It's not only a good place to find recipes and craft ideas, it also has tons of great educational ideas. I have a whole board of homeschool resources that I've been slowly integrating into our homeschool. I also have another board called "Stuff for the Kiddos" that is full of easy crafts, projects, and other entertaining things that I dig into when they need a change or want something fun to do. If we've been having a particularly chaotic week, sometimes it's nice for the kids to relax and play with a fun craft.
Music - This might sound simple to some but music is one thing that helps me to keep calm in the midst of chaos. I love listening to classical music especially. I've also noticed that music can have an effect on my children as well - if we listen to something that's upbeat, they're more likely to be dancing around and jumping. On the other hand, if we listen to a ballad that's slow and lilting they often want to sit and listen, and it sometimes helps them to calm down.
"Dadddyyyyyy!" - My hubby is my biggest helper. He contributes to our homeschooling by reading aloud to the kids, teaching them life skills, and through history lessons. He also supports me in all my different endeavors and is glad to help out when I need a break, even if it's just for a little bit. He's never been one to complain about minding the kids. Okay, well I won't say he's NEVER complained but he's told me before they're his kids, it's not like he's babysitting - he's the Dad! :)
"Everybody elseeeee!" - In addition to my hubby, I also have family members who are ready and willing to help as needed. Since we spend so much time together, the kids sometimes get tired of me - they see me all the time and they need somebody different to hang out with for awhile! I don't mean every other day or anything like that but every once in awhile, it's nice for them to be able to spend the day having fun with their Aunt or to spend a night at Gramma & Papa's. It's also a nice refresher for Momma as well! :)
Prayer/Scripture - Daily prayers are a part of my routine but sometimes God gets an extra special prayer from me that's just a sentence or two, and I think he totally understands that. :) They're usually something along the lines of - "I'm not sure how I'm going to make it through the rest of this day...Lord, please help me!" Reading my Bible is also a *huge* help to me because God so often speaks directly to my troubled heart, such as when he impressed these verses upon my heart after I prayed one of those prayers: "The righteous cry out, and the Lord hears them; he delivers them from all their troubles. The Lord is close to the brokenhearted and saves those who are crushed in spirit. A righteous man may have many troubles, but the Lord delivers him from them all..." (Psalms 34:17-19)
So now that you've heard my sanity savers, I'd like to hear about yours! What is your saving grace when everything is chaotic? I'd love to hear your thoughts in the comments!
5 Days of Chaotic Homeschooling is part of 5 Days of Blogging with The Homeschool Crew!