WHAT IT IS:
The Apologia "Who Is My Neighbor" book is third in a series entitled "What We Believe." This Christian series helps children to understand what it means to be "salt and light" in the world. It's geared towards children ages 6 through 14 and can be used with multiple age groups. Some of the topics it covers include:
God created me to be a blessing to the world.
God chooses to work through me.
I can make a difference at home, in my community, and at church.
The church is God's family.
The church is one body with many gifts.
I am an important member of Jesus' body.
Also available are a Notebooking Journal that has corresponding questions and activities and a Coloring Book for younger children. You can use the books in this series together or separately. The book is $39, the notebooking journal is $24, and the coloring book is $8. Check out a sample lesson
here
. You can purchase the books through
Apologia's website
.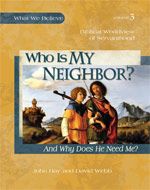 WHAT WE THOUGHT:
Some of the stories in the text were a little difficult for my six year old to follow along with mainly because of their length and his short attention span. However, the coloring book proved to be very handy as he could color and keep his hands busy while I read aloud to him. We loved it and the notebooking journal - it was chock full of lots of neat activities that helped drive the points of the stories home. I would definitely recommend getting them along with the textbook to help the kids get a full understanding of the text.
This is a very thorough curriculum, full of Biblical truth. It talks a lot about being a servant which I like as I always want to show my kids ways that we can help and serve others. I think it explains some subjects that may be difficult for parents to try and explain on their own. It also spoke not only to the children about serving, but also to me. I could definitely see this curriculum being used more as my kiddos grow. I even thought it might be neat to use in our local co-op for a Bible class!
Disclosure: As a member of the The Old Schoolhouse Crew, I received this product at no cost to me, in exchange for my honest review. All opinions are mine. To see what other crew members thought, please click the button below.