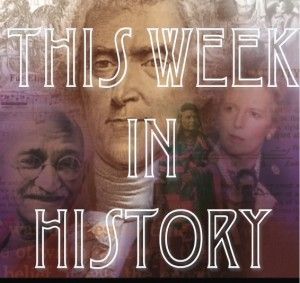 One thing I think is really fun about homeschooling is the ability to study the things that your child is really interested in - if they're fascinated with the medieval time period, you can go in-depth and really dig into it more. However, sometimes it's challenging to plan all those things and to find activities and lessons to go along with them. Enter
This Week in History
from
A Thomas Jefferson Education
!
For $9.99 a month, you get access to their very comprehensive website - and when I say comprehensive I do mean that. There are all sorts of resources on there, videos, lessons, and freebies, among other things. and a weekly email that tells you what happened each day of the week in history with pictures, links, resources, and lesson & activity ideas. And it's more than just history - it also includes math, science, language skills, geography, art, and others. You can also search the website archive for specific
dates, topics, and key words - this would be good for planning purposes or to look up stuff your kiddos are particularly interested in at the moment.
Some of the activities and topics we found interesting in a recent email were:
Learning about the Transatlantic cable and making our own toy telephone.

Celebrating Bugs Bunny's birthday and an art lesson on how to draw him.

Making lasagna on National Lasagna Day and reading the history of it.

Reading about Puccini on his birthday and listening to selections from La Boheme.
In addition to all of this great content, I also really like the philosophy behind A Thomas Jefferson Education. They live by 7 Keys of Great Teaching which they consider principles of successful education. When you follow those, they believe that learning can occur for any learning style. When you ignore them, the quantity and quality of your child's education will decrease. Two of they keys I really like are Simplicity, Not Complexity and Quality, Not Conformity. If you're interested, you can read more about them
here
.
To see what other Crew members thought about
This Week in History
, please click the image below.

Disclaimer - As part of The Old Schoolhouse Review Crew, I received a subscription in exchange for my honest opinion.