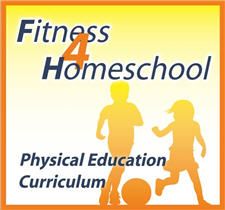 As part of The Old Schoolhouse Review Crew, we recently got the chance to review the
Fitness 4 Home School Core 1 Curriculum K-8
from
Family Time Fitness
. When I was deciding on curriculum this year, I made a decision that we needed to have a set time for physical activities, or if not that then at least a few times a week make sure that we're doing something that will count as Physical Education. Although my kids are pretty active - Zeke has been involved with baseball and now with soccer, and they'll always run around the yard and play if given the chance - I sometimes find it challenging to think of different activities for them to do - and I wonder if those activities actually count as Physical Education. P.E. was NOT my favorite subject in school and I do sometimes find it difficult to stay with or to find time with an exercise routine. Around that same time, we were chosen to review FTF! Here's some more about the program from their website:
The Fitness 4 Homeschool Curriculum allows homeschool parents to teach physical education without previous knowledge of physical education and athletic development. Our program, designed by experts in fitness training, nutrition and body movement, is designed to suit every age and ability level while affordably fitting into your budget. Our program combines flexibility and fun with a comprehensive curriculum to give your children a foundation for strong bodies and minds. Best of all, you get all this for only $57 dollars for all your children!

Think you have spent your entire curriculum budget? What about your family health budget? Not only is this program a fitness curriculum, it is a family health plan. Gym memberships can cost $150 a month for a family, and a single doctor visit for one can be around $120. Our program costs $57 one time, that's only $4.75 a month over a year's time; and it is available to you for a lifetime! For less than a bag of snacks per month your family can be on the path to a healthier and happier life!
So first off I have to start by saying my initial draw to this was cost. I try to homeschool for "almost free" so a one time lifetime fee of $57 is a HUGE positive. With your purchase, you receive a start-up guide, lesson plans in a PDF format, video demonstrations, assessment tools, reminder emails, a lifetime of curriculum and video updates, access to online webinars, and certificates of completion. The downloads were broken up into 20 lessons at a time files so that a plus to me as well since we have download limits on our internet - I didn't have to download all 260 lessons in one sitting. Once downloaded, I began reading through the one page summaries - which were really nice, so I didn't have to print all the lessons out - and planning. I love that the lessons are all preplanned and that they take minimal prep time. Each lesson includes a warm-up, an activity or a game, a cool-down, and an outdoor activity. Some examples of the activities we tried: crab walks, tag, hula hooping, stretching, and yoga. If you're unsure of how to do something listed, there are links to videos within the lesson that show you exactly what to do. Another nice thing is that when using this curriculum, you're not going to sink a fortune into gym equipment. You can use things your kids probably already have or go to your local dollar store and pick up a few items and be set! The lessons are easily adaptable for any age group (which is good for my little and bigger kid) and ability level (which is good for me, the not so coordinated preggo!). I also love that the lessons are something we can do together - rather than me just directing them. I can show or demonstrate it to them or get involved and play.
I would definitely recommend Family Time Fitness to any homeschool family as it is super easy to use and a great way to keep kids active and learning about physical education. If you're interested in please check out the
Family Time Fitness
website. They're also on
Facebook
and
Twitter
. To see what other crew members thought, please click the image below!

Disclosure: We received the above mentioned product for free as part of The Old Schoolhouse Review Crew in exchange for our honest review. I was not compensated in any other way. Opinions are my own.