As part of The Old Schoolhouse Homeschool Review Crew, we recently received a unit study from
Homeschool Legacy
to review and give our honest thoughts on. A unit study is a hands-on way to study a specific topic in all your different subjects. We've done a few before, mostly ones that I've compiled myself, and have really enjoyed them. Homeschool Legacy offers a variety of different
Once-a-Week Unit Studies
to "help you instill a love of learning in your children and to help you get them fired up for the Lord." We received the unit study on
Native America
. Here are some things we really liked: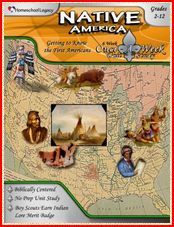 The unit study is designed for you to basically open it up and go. All that was required of me was to read through it so I understood what we were doing and to make a trip to the library for books related to our studies. This was really nice. As I said, we've done a few unit studies but I kind of just cobbled everything together myself and it was quite a task - it was nice to have all the work done for me.
The unit study schedule is simple - one day out of your week is Unit Study Day. That day all your studies revolve around your topic. Throughout the rest of the week, you read from the books you got at the library, which are included on a very thorough list with a variety of reading levels. We chose to get some simpler books with more pictures since my kiddos are pretty young and a few read-alouds for me to read to them in the evenings. There were some books listed that we couldn't find but Dewey decimal numbers are included in the list so I was easily able to find similar books nearby on the same topics.
The unit study itself is very hands-on and good for any kind of learner. There are a variety of different activities to do including making Indian arts and crafts, learning about famous Indians and getting to know more about several different types of tribes, reading classic Indian poetry, making Native America food, and studying the geography of where they lived. My seven year old is very into anything hands-on and really enjoyed the variety of activities that the unit study offered, especially the family totem pole he made when studying the Pacific Northwest Indians.
Since the activities and reading levels can be varied so much, it is easy to use this with several different age levels. Although my littlest is only three, she likes to be included in school (most of the time) and it was easy for her to get in on the action when she desired.
Another interesting feature is that if you have any children who are participating in Boy Scouts or American Heritage Girls, they can earn merit badges while doing their unit study assignments. I don't have children currently in either of those but several families in our local homeschool group do and I know they'll be interested to learn about it.
The unit studies are available for $17.95 on the Homeschool Legacy website and although they are six week studies, seeing as how they have so many activities and ideas, I could easily see us using this again. There are also a variety of different topics available including: Horsing Around, Birds of a Feather, Getting to Know Your Constitution, and Knights & Nobles.
If you'd like to read what other Crew Members thought of this Unit Study and others from Homeschool Legacy, please click the button below!

Disclosure: We received the above mentioned product for free as part of The Old Schoolhouse Review Crew in exchange for our honest review. I was not compensated in any other way. Opinions are my own.