Marshall Publishing
produces award winning DVDs, CDs, and books. They cover a variety of topics - from educational & historical, comedy & game shows, animals, and much more. They also created the popular "Lots and Lots" series about
trains
,
firetrucks
,
monster trucks
, and more. For this review, we were given a copy of
America in the 1880's - A Decade of Progress
. Here's a little bit more about the DVD and our thoughts on it:
What was life like in America in the 1880s? Certainly nothing like today, yet many of the things we so cherish now had their roots during this significant and often time neglected decade in history.
Just like a time machine, we transport you back to discover the people and events that shaped this exciting decade: the Brooklyn Bridge ...Washington Monument ...Statue of Liberty ...Gunfight at the O.K. Corral ...Oklahoma Land Rush ...Johnstown Flood ...Thomas Edison ...Mark Twain ...Baby Doe ...Sitting Bull ...Sarah Bernhardt ...John Philip Sousa ...Buffalo Bill ...Gilbert and Sullivan ...Wyatt Earp...Jesse James and Billy the Kid ....Alexander Graham Bell ....John D. Rockefeller ....Andrew Carnegie ....Samuel Gompers ....Susan B. Anthony ....Lillian Russell ....and many more!
You will learn about fashion, politics, sports heroes, famous inventors, Wall Street financiers, railroad expansion, buffalo extinction, Indian resettlement, Civil Rights, union organization, urbanization, the music of the times, and much, much more!
Through the use of live re-enactments, rare historical photographs and drawings, and award-winning photography you will be amazed, amused, entertained and educated about many little known facts and some life changing events that have become part of the foundation of our society today.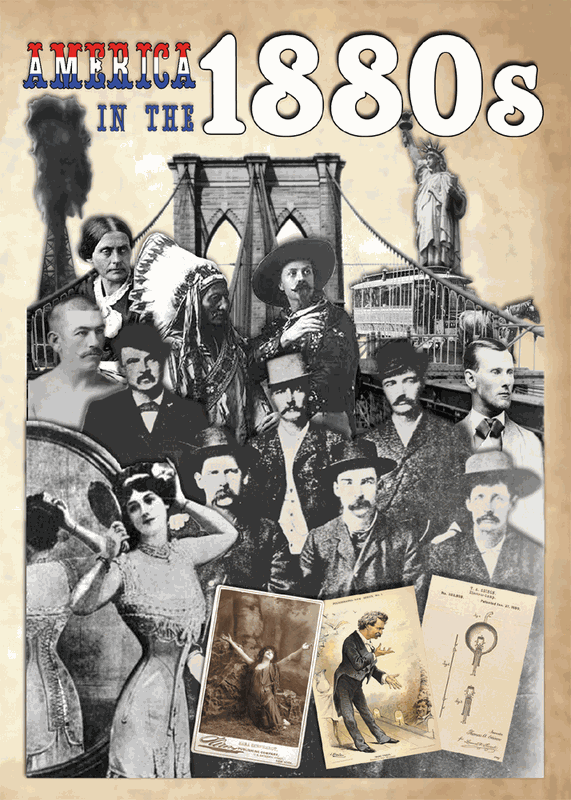 Although this DVD's suggested age range is 4th Grade through Adult, when I quizzed my son on the titles available to review he said, "Momma, I'd like that one if you can get it." He was very excited when he found out we'd been chosen for that one and watched the DVD as soon as it arrived in our mailbox. He found it fascinating and has watched it several times since then actually. His favorite part was probably when they discussed the railroad expansions of that time - he's always liked trains. The Study Guide included on the website is very helpful in planning how to incorporate the DVD into your schoolwork with questions to ask your student, a brief summary, facts and important names, and a suggested timeline.
In addition to sharing about the people and events from that time period, the DVD also included an archival documentary on the life of Alexander Graham Bell, the work he did for the deaf, and his invention of the telephone. I got to thinking that we don't have a home phone (and haven't for quite awhile) so my kids are used to cellphones and all the neat things they can do. They've of course seen regular old telephones but don't know that much about them - so that part of the DVD was quite eye-opening for them, as silly as it may sound! (It also made me feel old!)
This DVD and it's correlated Study Guide are on sale now for $19.95 at
Marshall Publishing's website
. (Zeke's already put in requests for some of their other DVDs so I'm adding those to my "Christmas Ideas" list!) You can also find them on
Facebook
and
Twitter
. To see what other Crew Members thought of this DVD and others, please click the image below.

Disclosure: As part of The Old Schoolhouse Review Crew, I received the above mentioned DVD in exchange for my honest review. Opinions are my own.