Samson's Classroom
is an online program that helps children in grades Kindergarten through 5th with their reading skills. It currently consists of three different parts - sight words, spelling, and reading. Each of the sections features a dog character called Samson. Sight Words With Samson helps kids to master 224 commonly used words through a five step process with lots of repetition - the kids see the word, spell it, and hear it in a sentence. Spelling with Samson helps children to master spelling lists through a variety of different games. You can use the word lists provided or make your own. Each game reinforces the others. Reading With Samson helps children to understand basic reading skills like cause and effect, comprehension, sequencing, etc. The website also offers you as the parent/teacher a large variety of printable materials like flash cards, worksheets, and lesson plans.
Something I enjoy about educational computer programs and software are that they offer an alternative to the kids than our normal curriculum - I think they sometimes seem more like "fun games" than perhaps our day to day things do. Samson's Classroom gives them a variety of things from them to choose from. I can see it being especially helpful on an upcoming cold & blustery winter day when Zeke would like something else to do for a change. They provide a LOT of repetition which is something he really needs to understand a concept. Although he got a little mad when he couldn't go on to the next level of a game (because he'd missed too many questions) I just reiterated to him that the program wanted him to master the words or spelling before he moved on to more. He really liked the Samson character and enjoyed the fun sounds the program made.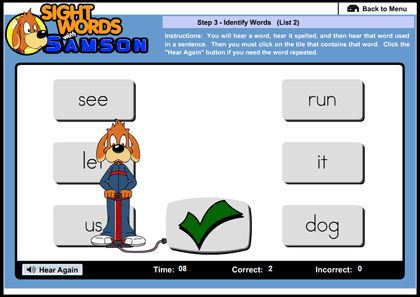 Samson's Classroom has several different pricing options. A home use plan is $30 per year, a family plan with up to 4 users is $50 per year, and a classroom plan with up to 30 users is $80 per year - they also offer bigger packages for larger schools and classrooms. If you'd like to learn more about them, check out the
short demo video
they have or go ahead &
try out the website
before you buy. (No signing up for anything either!) To see what other Crew Members thought of Samson's Classroom, please click the button below.

Disclaimer: We received a subscription to Samson's Classroom as part of The Old Schoolhouse Review Crew in exchange for an honest review. All opinions are my own, and no other compensation was given.