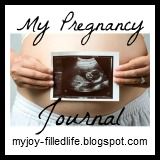 How far along are you?
38 weeks, 3 days. Due/guess date is February 7th.
Best Moment this week?
Going to our midwife visit and coming out into the waiting room to be greeted by a friend & her family who were also there because she's pregnant! So very happy for her.
Prayer requests?
Although I'm not really worried about it, I am concerned my labor might stall like it has before. BUT I know there are lots of things we can do and am feeling a bit better knowing that we'll be at home & I won't have a "countdown timer" on me like I would at the hospital.
What scripture is speaking to you this week?
2
Chronicles
32:6-8 - "He appointed military officers over the people and assembled them before him in the square at the city gate and encouraged them with these words: 'Be strong and courageous. Do not be afraid or discouraged because of the king of Assyria and the vast army with him, for there is a greater power with us than with him. With him is only the arm of flesh, but with us is the Lord our God to help us and to fight our battles.' And the people gained confidence from what Hezekiah the king of Judah said." That was a verse from
this study
I read online & really enjoyed.
Baby's growth?
The midwife is guessing he's around seven & a half pounds and might get closer to eight before birth.
Symptoms?
I've had a lot of discomfort in my hips and a little in my back - I'm assuming because baby is moving on downward. Still having some trouble getting comfortable at night. Oh, and I definitely have the pregnancy waddle going on. Saw it in a mirror the other day as I walked past...LOL.
Medical Stuff?
I'm getting over my cold/cough/sinus infection - only a wee bit of a cough with some stuffy nose now. (The kids have gotten it too, though.) My midwife visit on Friday wasn't bad but she did reiterate that I need more protein and water. I was rather dehydrated which is crazy because I feel like I've been drinking a ton of water but I think I probably just still need more than what I think. So I have been guzzling water and trying to get in more protein.
Weight gain (or loss)?
17 pounds total this pregnancy.
Cravings?
Sweets! Cookies and chocolate, specifically.
Food Aversions?
Nothing in particular.
What Made Me Cry This Week?
I have cried more this week and I think it's probably because I was feeling so rough with this sinus infection.
Sleep?
On Friday when hubby went to work, I put the kids to bed (they were feeling kind of rough too & went right to sleep, believe it or not), took some Tylenol, and pretty much passed out - and slept ALL NIGHT until like 8 the next morning. That hasn't happened in quite awhile but it was oh so needed! Last night I only slept a few hours but I'm hoping the kids will cooperate again.
Maternity Clothes?
Basically whatever I can find that covers my tummy, I'm wearing! I also wore a lot of pajamas this week, LOL.
Movement?
He is busiest at night. I'm so glad hubby's gotten to see so many of his movements - he commented that this baby seems much more active than our other two! (Should I be worried for the future?!)
What I miss:
Being able to easily clean. Vacuuming and stuff like that isn't a big deal but trying to put things away or moving stuff around is a huge hassle. Zeke and I completely rearranged/purged stuff/cleaned his room on Saturday and oh my...it WORE ME OUT. So tired...
What I'm looking forward to:
Seeing this little guy! I've been looking through the kids baby pictures and can't wait to see if he looks like them.
Labor Signs?
Ummm...none. Or at least none that I'm noticing.
Thoughts from the family?
I want to thank my Momma. I've been feeling really emotional about what to do with the kiddos when I'm having the baby. I'm guessing it's mainly hormones but still...I'd been feeling all weird & protective, like I HAD to have them here the whole time and that they had to be here to meet their baby brother right away. But then I kept thinking about how I'm really going to need to focus during the birth and about how there could be seven hundred other family members in the room and the kids would STILL probably ask me to get them a drink or a toy or something. So after talking with my Mom on the phone, I realized that they aren't going to be traumatized or feel neglected if they're not here the second after the baby is born, and that me taking people up on offers of help doesn't make me a bad mom. She is going to be watching the kids for me and we kind of started to map out how we'll let them gradually come home for visits during the first week to get better adjusted. I just wanted to thank her for making me feel better & for her generosity about keeping them whenever and helping me out.
Something I'm Excited About?
Our birth pool! We decided to go ahead & get one and I'm really looking forward to trying it out.
Pregnancy related books you are reading?
I finished
Birthing from Within: An Extra-Ordinary Guide to Childbirth Preparation
by Pam England and am now re-reading Ina May Gaskin's
Guide to Childbirth
.