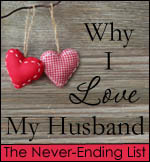 I've been a fan of the
Happy Wives Club
for awhile now - they always post such inspirational things on Facebook & Twitter. In a world that's full of so much "me" centered stuff and negativity, it's nice to see a website focused on encouraging women in their marriages. HWC has started a weekly link-up sharing the reasons why they love their husband to remind readers all over about the wonderful gift that is marriage. I'm joining in this week with just a few reasons why I love this guy I've been with for almost eight years:
1. He is a hard worker, willing to do whatever he has to do to provide for our family.
2. He values my contributions at home and doesn't think I'm "JUST" a stay at home mom. He gladly tells people I stay at home with the kids and explains how it works for us.
3. He is so easy-going when I want to try something new, like join a group, even if he suspects that it might not work out for me. He doesn't rub it in my face if it doesn't work out, just encourages me to learn.
4. He has always been supportive of me wanting to homeschool our kids.
5. We've had fights, arguments, and both said things we regret...but he has always had the mind frame of being in this for the long haul - divorce is not an option.