I'm really excited to be the guest co-host on the Mom Loving Hop this week! I've been linking up with them for a few weeks now and I've met a lot of new people and discovered some pretty neat blogs. Please come join up with us!
Our guest co-host this week is Shay from
Wonderfully Chaotic
Shay's blog title is the perfect way to sum up not just her home but all homes filled with children, just love it. She's a mama to three and a loving step mom to one - count it, that's four children! Shay's blog is great for moms because she reviews relevant for families. If you're a homeschooling mama (or just a mom wanting to find ways to give your children extra support at home) you'll definitely want to check her out!
Our featured mama this week is Teri from A Beautiful Little Life
Teri lives in Minnesota and is mom to two boys ages 16 and 20. She was motivated to write her blog by a quote from Holly Becker that is about a blog being a motivator to do things you'll want to share rather than a chore. Her blog helps her tackle all those 'to-do' list items. Teri's blog is filled with a large assortment of topics, something for everyone!
Here we go! Don't forget to...
**grab our button and display it proud for other mama's to get in on this action!
**read the rules, link up and socialize!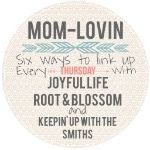 Please, if you are new to the hop or have been here but haven't left a comment, please let us know on our own respected blogs that you are a new follower (be sure to say HOW you are following) so we can follow you back!
Also,
If you are interested in co-hosting FOR FREE shoot Hannah an email at hannahsjoyfullife (at) gmail.com to get on the list, growing your followers couldn't be easier!