Through the Homeschool Crew, I recently got to review a Motivated Moms Ebook. Motivated Moms is a chore planning system designed to help busy moms stay on top of their chores and take care of their household. It started out originally as a planner and has since grown into different versions of a downloadable, printable e-book and app usable on iPad, iPod Touch, or iPhone.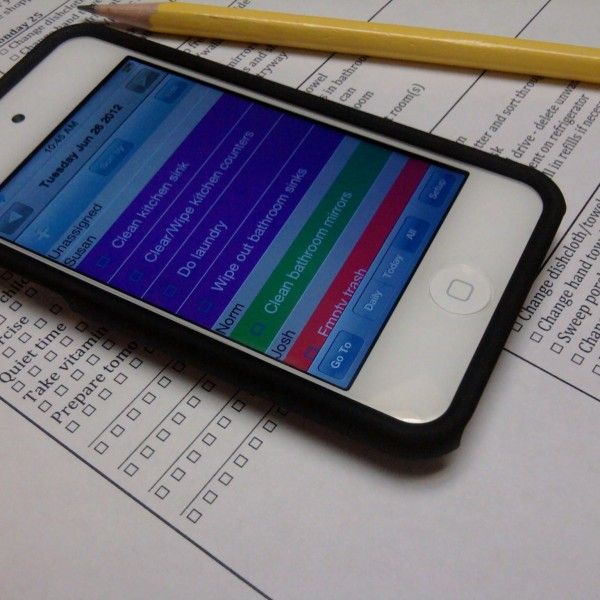 The e-book format that I got to review is available in many different variations with either half or full sized pages with the options of a Bible reading list and chore list that you can check off as you go. You can also either choose a page per day or a page per week and color or black and white. Since there are a variety of different options, the pages available to download and preview on their website are very helpful. I printed out several versions to look over (and even consulted with my husband) before I decided on one.
I chose the
2014 Motivated Moms Chore Planner with Scheduled Bible Reading in Black and White
. I chose Black & White because we don't have a color printer at the moment. Here are some more things I really liked about this version, and the e-book in general:
I can either print the whole thing off at once or I can just print pages off as needed, depending on what my printer will allow. :)
It fits right onto my clipboard, can be stuck to the refrigerator, or can be put into my household/homeschool planner book.
It includes daily Bible readings. Very handy. I have devotionals and stuff to use but this motivates me to stay in the word each day by reading a specific passage of scripture and check it off.
My children and I both enjoy checking off the "daily chores" - these are all things we do normally each day, or at least try to, like making our beds, doing laundry, reading to the kids, etc. The kids have actually been keeping me in line and reminding of the daily tasks after they get up in the morning.
This will probably sound silly but some of the chore reminders are things that I get behind on easily and then feel horrible about - like clipping the kids nails or taking my vitamins. (Please tell me I'm not the only mom of multiple children who has been somewhere and noticed that one child needs a nail trimming!) It's nice to have those reminders in print.
I enjoy that the assigned tasks for the week aren't overwhelming (there's usually 4 - 5 items for Monday - Friday) and they are generally specific to one room - kitchen, bathroom, master bedroom, etc. I also like that the weekends are lighter on tasks. My husband usually only has Saturday off, so we are able to enjoy spending time with him then rather than cleaning all day.
I am not a naturally organized person. This system helps me to start getting on top of the chores that have gotten out of hand.
The number one hing I like the most about the Motivated Moms e-book planner is this:
It's forgiving.
As I said before, I am not naturally organized. I've tried other organization systems and planners and I was constantly feeling like if I got behind one or two days, I had to scrap it and start over.
It is not the end of the world if you don't check everything off this list. It will be there tomorrow. It is a tool to help you but it's also not going to beat you up if you don't get everything done. This was really helpful for me, especially as time went on. When I started out, I was doing great checking things off left, right, and center. Then I hit a snag - baby was up late, I got very little sleep, day started off wrong - and our list didn't get finished. Instead of getting bogged down, I just vowed to finish up those other chores the next day and as the week went on. It worked out great!
If you're a busy momma, I think the Motivated Moms system could be just the thing you're looking for. And with the many different options for planners (or the app!) there is sure to be one that suits you. The Motivated Moms e-books are $8 and the app is also available in a lite and full version, 2 month lite trial for $1.99 or 99 cents a month or $7.99 a year full version. All are available through the Motivated Moms website -
http://www.MotivatedMoms.com
. You can also find them on Facebook -
https://www.facebook.com/motivated.moms
- & Twitter -
https://twitter.com/momoplanner