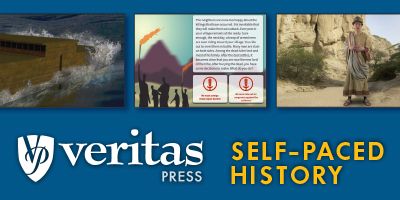 Veritas Press
is a well-known company in the homeschool community that utilizes a classical Christian education approach. Starting out with flashcards for Bible and History,
Veritas Press
now offers kindergarten through high school classes and resources. They've also recently delved into online learning with self-paced and live online courses. For our review, the Schoolhouse Crew got to try out some two of the self-paced courses:
Veritas Press Self-Paced Omnibus I
and
Veritas Press Self-Paced History
. Both are completed online. Omnibus I is for children in grade seven (or around age 12) and up and Self-Paced History is for students in grades two through six.
My second-going-into-third grade son Zeke and I were chosen to review
Veritas Press Self-Paced History: Middle Ages, Renaissance and Reformation
. We also received the
Middle Ages, Renaissance and Reformation flashcards
. The self-paced class covers thirty two different events from that time period - each event has five individual lessons making a total of 160 classes. Each lesson is about 20-30 minutes long, which I feel like is the perfect time period.
The teaching in the class is very interactive - Zeke played games and watched videos of actors talking/portraying events from the time period. The actors for our class are two monks which present the lesson by talking amongst themselves and with the student. There is also mapping for each lesson - the student has to label different areas by dragging the names. I really liked this as Geography is not one of my strong suits. There's music which Zeke wasn't super keen on (I think it was just a little bit long for his taste) but the games were great - he had to answer questions about his class in order to rack up time to play games like tic tac toe, puzzles, word searches, and more. There are tests and worksheets (done within the class) and optional readings which I went ahead and tried to do, if the books were available within our house or the library.
The flashcards were chock full of names, dates, places and events which was also right up his alley - he loves reciting facts he's learned to me. Each one has a picture of an event or person on one side and facts on the other. It also lists resources at the bottom - other books the child can use to learn more about the subject. We took these with us to the library and checked out a few to go along with our studies.
Zeke is a HUGE History buff and really regarded this as more "fun" than a class. It is very in-depth and I would definitely consider using it again in the future. I think that it would be great for all types of students really but it's especially good for a visual type of learner or for busy kiddos, as it draws them in and holds their attention.
Each very thorough, year long course is $199. Veritas Press also offers a sibling discount of $100 off. You can f
ollow Veritas Press on social media at the following places -
Facebook
//
Twitter
//
Pinterest
//
Google+